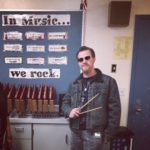 FOR IMMEDIATE RELEASE: 6/14/18
Pensacola, FL Music Teacher, Joshua Kaye, is Confirmed as a GRAMMY Music Educator Award Quarterfinalist for 2019.
Pensacola's own, Joshua Kaye, was nominated for the GRAMMY Music Educator Award 2019 by the PTA at Helen Caro Elementary School and has been certified as a Quarterfinalist!
According to the Recording Academy GRAMMY MUSEUM, Joshua Kaye has been chosen from the 2,800 initial nominees to be a GRAMMY Music Educator Award Quarterfinalist. Josh takes his place among the 188 music teachers, from 177 cities,  who will now move on to the Semifinalist round. 
The Recording Academy GRAMMY Museum states, "The Music Educator Award was established to recognize current educators (kindergarten through college, public and private schools) who have made a significant and lasting contribution to the field of music education and who demonstrate a commitment to the broader cause of maintaining music education in the schools."
According to Ron Kaye, of Ron Kaye's Music Instruction, "Joshua is a multi-instrumentalist, teaching numerous instruments. Mr. Kaye has an Associates Degree in Music Education from Pensacola State College and a Bachelors Degree in Music Education from the University of West Florida, majoring in percussion. Josh is a State Certified music educator (including ESE Exceptional Student Education) with over 24yrs. of musical instrument experience."
Ron went on to state that, "In addition to being a State Certified Music Teacher, Joshua is a regular instructor at Autism Pensacola's Kids Camp. He regularly plays the  guitar, bass guitar, drums, percussion, piano, mandolin & banjo  professionally. Mr. Kaye's resume includes being an OPS Adjunct Professor for the  University of West Florida teaching guitar, drums, piano & Banjo, and he has been a solo performer, and pit musician for musical shows. He has played in bands of all types and has been an in-demand teacher for Ron Kaye's Music Instruction since 2006." 
Joshua Kaye is one of the music teachers at Helen Caro Elementary School which is in the Escambia County School District. According to Angela Barberi, the Escambia County Fine Arts Specialist, "Joshua has made such an impact, not only in our district, but across the state of Florida. He's very innovative. He's always coming up with ways for his students to have performance based experience. He ties in his music program with the academics. He has support throughout the community. he brings that passion and love for music to his students." 
The GRAMMY Music Educator Awards SEMIFINALISTS will be announced in September.
For more information contact Ron Kaye at Ron Kaye's Music Instruction (850) 453-9966.
Susie Dawson, "Congratulations!!! You deserve it!! Great music teacher and person!! Students love him!!"
Jennifer Osborne, "🙌 YAY Congratulations👌😉🌟"
Nancy Emery, "Amazing! Best of Luck Joshua"
See More comments on our Facebook Page.